The BEST Rod Holders
Simple Design, Longevity, Ease of Use
Why Choose Us?

The Rod Holder that makes sense, is easy to use and will hold it's size and shape in all weather conditions. After 4 years of thorough research and development, our rubber rod holders have exceeded our own expectations. Our Rubber Rod Holders were developed with the marine industry in mind. Using professional grade rubber, our rod holders will maintain their shape for years to come. The Patented finger tip release make ours easy to use in summer climates or where gloves are required in the cold winter months. Your rods will never get scratched with the recessed screw heads. The stainless steel screws are included. We support American Industry and manufacture our products right here in the USA

Our Rubber Rod Holders have found many uses beyond the fishing industry. For example, the Police Departments are using them to secure their shotguns in vehicles, we have a Military Contract, Swimming Pool Stores, Kitchen Cabinet Makers, the Film Industry, Boom Pole Holders for Sound Carts, the Medical Industry and hundreds more uses.

Powerful clean design

* Simple yet effective design. Your equipment will not get scratched or damaged because of the recessed screw holes.


* Two Styles, and Three Sizes.

* The two external recessed screw heads keeps ours secure in vertical, horizontal or overhead applications.

* Professional Grade Rubber With our patented formula our Rubber Rod Holders will maintain their size and shape and longevity for years to come in all weather conditions. We guarentee it!
* Finger Tip Release The Finger Tip Grip, Release, for ease of use in summer climates or where gloves are required in cold winters.
Pictures from our Customers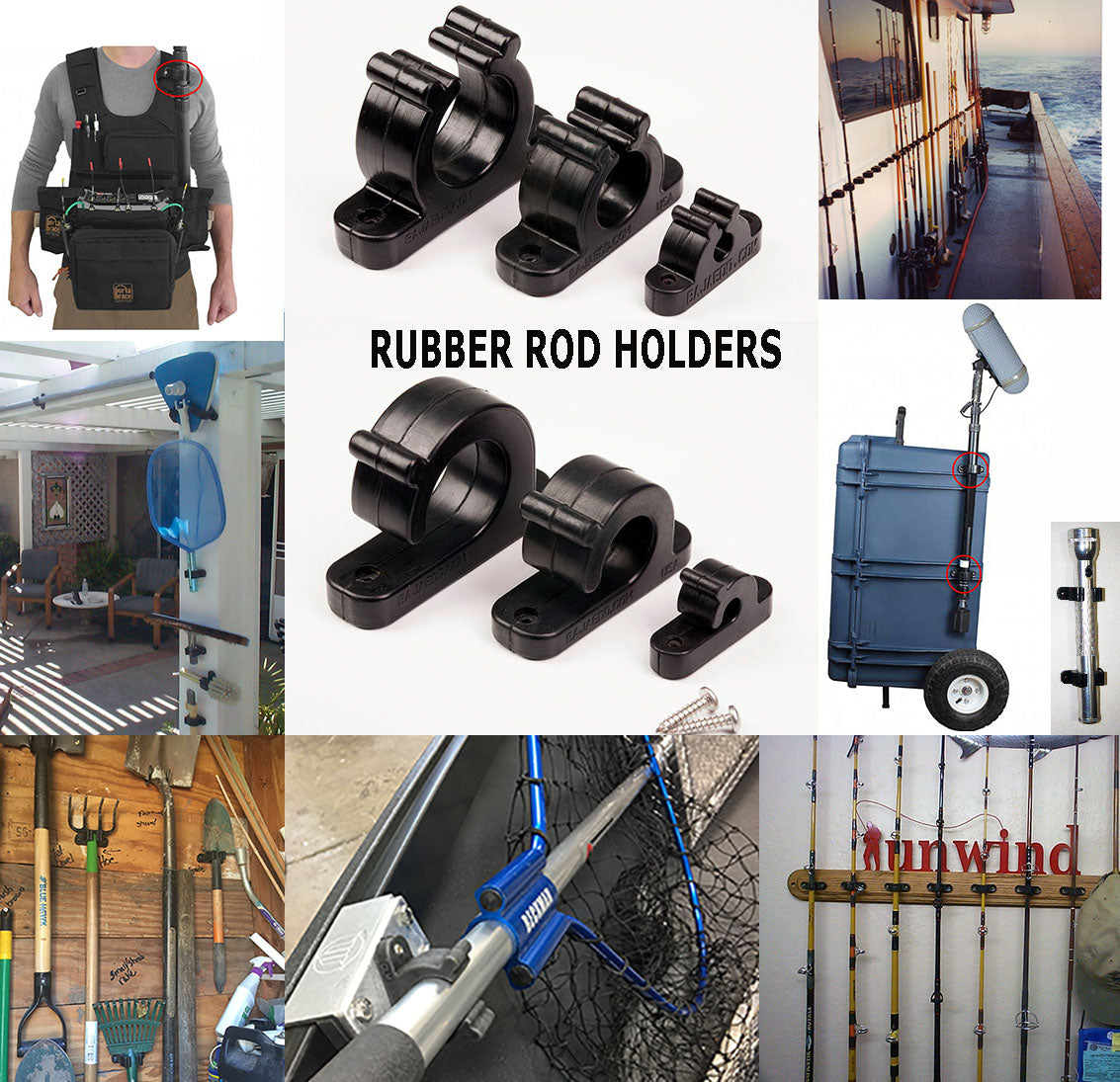 Our Rod Holders are Not just for fishing
A FEW IDEAS HOW OUR CUSTOMERS ARE USING OUR PRODUCTS. SPORT FISHING BOATS, SWIMMING POOL EQUIPMENT, GARDEN TOOLS, FISHING NETS, BOOM POLE HOLDERS ON SOUND CARTS and many more..